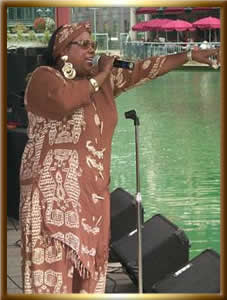 Renee Smith
---
With her powerful voice and dynamic stage presence, Renee Smith has earned the nickname "Queen of St. Louis Soul" on both sides of the Mississippi. Born in St. Louis and raised in East St. Louis, Renee began singing at age 12 in the Mount Zion Baptist Church. Drawing on her background in gospel music and her years of experience performing blues, soul and jazz in concerts, clubs and festivals, Renee makes every performance an exciting event where she and her audience forge a heartfelt connection.
Renee has opened shows for national recording artists including Jerry Butler, Little Milton, Bobby "Blue" Bland and Shirley Brown. She has performed at the Apollo Theater in New York City, and on ABC-TV's Good Morning America. In 1999, Renee also took American-style blues and soul to the Far East for a six-month residency in Singapore.

In St. Louis, Renee has performed at the St. Louis Blues Heritage Festival, the Big Muddy Blues & Roots Festival, Oliver Sain's popular Soul Reunion concerts, and at other venues including the Casino Queen, BB's Jazz Blues and Soups, Fast Eddie's Bon-Air and Jackie Smith's Louisiana Cafe. Football fans also may recognize her for singing the national anthem for the St. Louis Rams professional football team on two occasions.
In 2001, Renee released a Christmas-themed CD-EP, Around the Tree, and she is currently working on a full-length CD release for 2003.