The Piping Hot Buttery Biscuits of Blues
---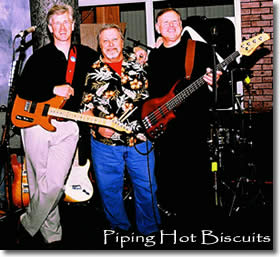 The Piping Hot Buttery Biscuits of Blues AKA The Biscuits, as we have affectionately come to be known, are a three piece blues band that plays everything from down and dirty, acoustic Delta Blues to the electric blues of Chicago and Texas.

We cover tunes by the true pioneers of urban blues like Robert Johnson, Howlin' Wolf, Muddy Waters, Willie Dixon, Sonny Boy Williamson, and Lonnie Johnson; modern acoustic blues icons Taj Mahal and Keb Mo'; and electric blues greats such as John Mayall, Eric Clapton, B. B. King, Buddy Guy, Stevie Ray Vaughan, Tab Benoit, Otis Clay and so many others.

The members of The Piping Hot Buttery Biscuits of Blues are veterans of the music business. Each is a seasoned, touring musician who knows how to entertain an audience. We've each ridden many a ragged mile and played with sore fingers and raspy throats, but we never failed to close the show to cheering crowds. Now, we've brought our collective experiences together to create a band that is second to none.