Tony T.
---
By Cornbread

I have had the privilege of seeing Tony T. perform on different occasions over the last couple of years with Johnnie Johnson and also with Cryin' Shame. He is a hard working guitarist who is an outstanding player, his singing has developed to a similar level.

Tony was kind enough to visit with me and answer some questions.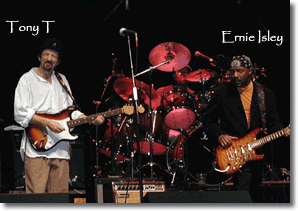 Tony T: Hey Cornbread

Cornbread: Tony, how did you get started playing?

Tony T: I just always had this affinity for music as a kid I was always beating on things. I would lock myself in my room and sing with a pretend microphone and use a broom as guitar.

Cornbread: Was the guitar your first instrument?

Tony T: No. When I was in fifth grade I picked the saxophone as school and brought it home. Whatever I did or did not do my Dad told me to take it back. I did and came back with a drum. I started playing drums in school and fell in love with drums. I was in the all school bands; the jazz band, the marching band. It gave me such a great sense of timing and understanding of timing. I did that through school. I played my first bar when I was fifteen. I did that until I was seventeen. I always just loved playing clubs. At seventeen I picked up an acoustic guitar and played it - I immediately fell in love with that guitar. It just sucked my right in. I just went right into it; I just could not get enough.

Cornbread: Are you self-taught?

Tony T: I went to the Conservatory of Music in Kansas City for two years, and also took a couple of
lessons.

Cornbread: When did you get your first guitar?

Tony T: I was seventeen.

Cornbread: Was that the guitar I've seen you play?

Tony T: No, I got that from my uncle. He was a guitar player and a big influence for me. He turned me onto the three Kings: Albert, Freddie and B.B. My uncle played that guitar; it's a 65 Fender Strat. I put active pu's in my 65 strat because of the noise factor (60 cycles hum is bad).

Cornbread: Who has been your biggest influence?

Tony T: I was like a sponge. I would listen to somebody, soak that up and go on to the next guy. There are just so many influences. Albert King is probably my all time favorite, he had a style like no one else had. He was just incredible. Tommy Bankhead was a big influence. There was a lot of influences from the three Kings, Paul BuTony T.erfield, Hendrix, Santana, Eric Clapton was another big influence.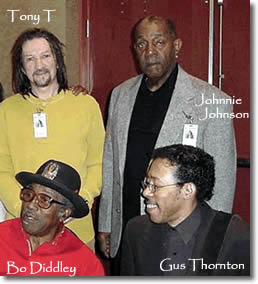 Cornbread: Who do you like to listen to now?

Tony T: It's a vast list. I listen to Michael Burks, I'll listen to Melvin Taylor. Sometimes I'll switch gears and listen to old Kenny Burrell or listen to some of the new jazz guys. There's Cuban music. I love Cuban music. I'm also into Latin guitar players a lot.

Cornbread: Who have you played with?

Tony T: I'm playing with Johnnie Johnson, Bo Diddley and also playing with Cryin' Shame. In 99 I worked with Barbara Carr who is on Echo Records. Through that I started working with others on that label. Bill Coday, Rufus Thomas. I worked with Tyrone Davis and Shirley Brown. I got to work with Ernie Isley when I was a featured guitar player at the Guitar Masters 2002 at the Pageant. John May and I did a couple of shows with Ernie.

Cornbread: Is there anyone that you would really like to play with?

Tony T: Ohhh, sure (laugh) lots of people. Michael Burks, Clapton, Robert
Cray.

Cornbread: What venue would you like to play?

Tony T: Large shows and major outdoor festivals.

Cornbread: Madison Square Gardens

Tony T: (laughs)

Cornbread: What are your plans for the future?

Tony T: Number one is to just keep growing as a guitar player. When you are young you think you know a lot of stuff and the older I get I realize I don't know as much as I thought I did. GoTony T.a keep growing, going up in levels and geTony T.ing beTony T.er. I like playing in large crowds. If I can make someone happy doing what I'm doing it makes me real happy.

Cornbread: I've seen you perform a couple of times and it seems you have grown as both a singer and songwriter. Is that part of your plan?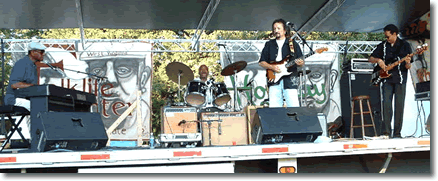 Tony T: Yeah, I always sing because it was a necessity. I'd be in groups and there would not be enough singers. I never really considered myself a singer but I always liked it. The more I sang the more comfortable I got singing, the more I could cut loose. I really enjoy it and would like to expand on that. I have been around some fantastic singers.

Cornbread: Are there any solo projects or CD's in the works?

Tony T: I am working on some songs on a CD project. I would love to work on a CD. We all strive - all musicians want to have that success.


Cornbread: Right now if someone wanted to hear Tony T. what would you recommend?

Tony T: With Johnnie and Bo in a professional seTony T.ing. Johnnie lets me do a couple of my songs.

Cornbread: Any words of wisdom?

Tony T: I don't know about the wisdom (laughs) but if you love music you will just follow the path. The path is a roller coaster ride at best. Part of the learning process is dealing with rejection and failing so-to-speak, cause it's a hard life, you've got to love it and want it to stay with it. It is such an incredible feeling when you walk on the stage, you become that other person, you don't know what's going to happen, but it's just wonderful. I just love that feeling. I can't get enough of it and when its been a while I go thru withdrawal. I would do it every single night.

Cornbread: What do you do when not performing?

Tony T: I touch my guitar almost every single day and maybe several times. I am always learning songs and working on songs. I am always playing.

Cornbread: Do you have any professional endorsements?

Tony T: I have been fortunate to get an endorsement with Mesa Boogie. I play through the Lonestar amp on stage.

Cornbread: Do you have any favorite CD's that have inspired you?

Tony T: Yeah, I've listened to every single Albert King CD. I listen to them a lot. Stevie Ray Vaughn, Freddie King, Muddy Waters and John Lee Hooker, Paul BuTony T.erfield, some Booker T.

Cornbread: Thanks for talking with us. We look forward to following your career.

Tony T: I had a good time.

Tony T. adds great guitar riffs and vocals to his performances. Be sure to catch his shows. Check the who's playing section for the local calendar.


Ciao' for now, peace.
Cornbread