Michael Burks - Blues on the Mississippi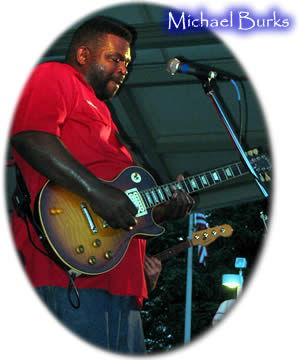 Michael Burks hails from the Southern state of Arkansas - home to many blues legends - but his scorching guitar has been heard from coast to coast! Recently the Blues on the Mississippi concert series brought him to Jefferson Barracks park for another great performance, with great weather and the park atmosphere making the evening a very 'family-friendly' event.


A 2004 Handy Awards nominee for Blues Instrumentalist-Guitar, Michael drew on some favorite covers of SRV, Howlin' Wolf, and Jimi Hendrix ('Hey Joe') interspersed between original tunes, as a strong vocal resemblance to Albert King came shining through. No wonder Michael was winner of the coveted Albert King Award in 1994 as most promising guitarist in the NBF International Blues Talent Contest.

A few moments talking to Michael revealed his love for St. Louis and his gigs down at BB's. Michael also likes performing at the Sparta, Ill. Blues fest, where he's known as an "adopted son" of Sparta, a title he obviously enjoys! You can catch him again soon at this year's Sparta Fest on 8/28! Always a topic of crowd conversation is the aging Hammond B3 that gets carried onstage with lots of TLC. Asked how long he's had his organ, keyboardist Stuart Baer replied with a smile "since 1962 - I bought it brand new!". There's something special in the sound that emanates from a B3, and like a fine wine it just seems to get better with age!

If you're not familar with the 6 pack guitar attack of this Alligator recording artist, here's his bio, tour schedule and much more. Don't miss a chance to see the magic that is Michael Burks!


Blues News you can use