DARREIN SAFRON & THE SOUL SENSATIONS :: BIO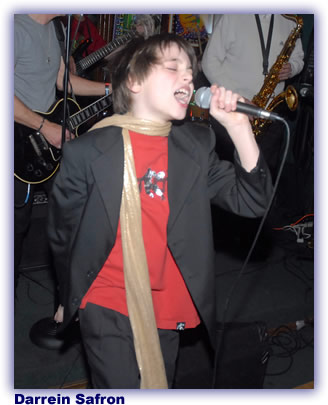 NEWS FLASH
Darrein Safron and the Soul Sensations earned a berth in the 2008 International Blues Challenge
"Blown away by his musical inflections"
Bob Kuban, Rock and Roll Hall of Famer
Darrein has been performing since the age of 4 – starting out singing 50's Rock 'n Roll like Elvis, Jerry Lee Lewis, Bill Haley and the Comets, etc. Now, at the age of 13, he has moved up and progressed to being a true soul singer–covering songs by Aretha Franklin to Sam Cooke and many more. At the age of 5, he landed an acting role in a movie called "The Painting" with Charles Shaughnessy, Clifton Davis, Ben Vereen and "Fame's" Debbie Allen.
Darrein is from St. Louis, Missouri and he was lucky enough to live in the area where tryouts for the Showtime At The Apollo were held! He passed his audition singing the soul classic "Chain of Fools".
His biggest influence has been his father, Mike Safron, who has been in music all his life. Mike Safron played drums for Chuck Berry, Bo Diddley, Albert King and is the founding member of the world acclaimed group Pavlov's Dog.
Darrein's back up band consists of 5 incredible musicians who call themselves, the "Soul Sensations", featuring: his father, Mike Safron, on drums; Ray Schulte, on guitar; Royal Robins, on keyboards;Tim Dugin, on bass; and Harry Simon, on tenor sax.
According to reviews, this I 2 year old boy, with his soulful voice and incredible stage presence, will blow you away! Don't miss seeing this young up-in-coming star of tomorrow!
Darrein Safron and the Soul Sensations have arrived!
--
back to top
--
Blues Whiz Kid!
Coming Soon!
Negotiable
4 hotel rooms, meals before or after performance, and drinks
--
back to top
--

NEW BANDS CLICK HERE
From clubs to corporate events to festivals, STLBlues can help make your event a memorable one!