Written by Bob Baugh & Dave Beardsley (originally published in Big City Rhythm & Blues magazine)
January 2021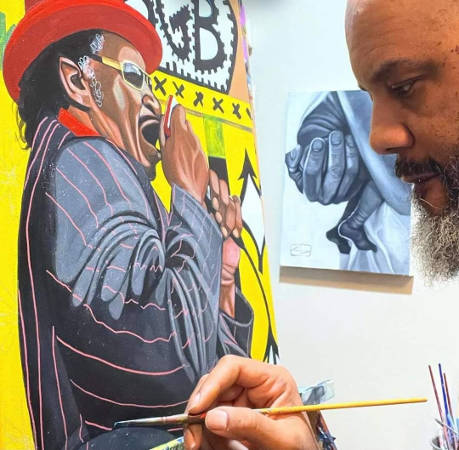 You could hear it in April winds off the Big Muddy as they swirled and moaned past BBs Jazz Blues and Soups, "Big George has left the building." One of St. Louis's last living and touring Delta born blues masters, Big George Brock, at 87, had passed. He and other Delta musicians are the treasures that shaped the St. Louis sound.
Brock, born in Grenada MS in 1932, was a larger-than-life bluesman who once wrestled a bear and knocked out Sonny Liston. In the 40's he sang and played harmonica with Muddy Waters, Howlin' Wolf and with Memphis Minnie at house parties. He was a proud and independent man who once turned down a Chess Brothers contract in the early 60's because it did not include record royalties.
Roger Stolle, owner of
Cat Head Delta Blues & Folk Art
in Clarksdale, helped revitalize Big George Brock and the Houserockers in the mid-2000s' with a documentary and three albums, Club Caravan, Round Two and Live At Seventy Five.
In a moving FB memorial, he eulogized his friend: "Big George was a living fossil of the blues. His life was the ultimate blues story. He picked cotton, boxed vegetables, and played the blues in Mississippi. Then, like other bluesmen of the era, Big George moved North in search of new opportunities. In his case, he did not make it all the way to Chicago. He stopped in St. Louis where he opened a series of blues clubs and shared the stage with blues masters like Muddy Waters, Howlin' Wolf, Albert King and Jimmy Reed... His brother-in-law was the late Delta bluesman Big Jack Johnson, his nephew was James "Super Chikan" Johnson and his half-brother was ex-ballplayer Lou Brock."
Brock left more than memories. He trained many young musicians through his band like
Albert King
(before his own band)
Marquise Knox
and
Matt Lesch.
He was a big man that played harmonica with hands the size of a catcher's mitt. He had an even bigger heart bigger heart for his community. Big George was always there to play and fundraise for people in need.
Another living legend that still plays occasionally is David Dee (David Eckford), a singer/guitarist who came up in the East St. Louis music scene in the early 1960's. Born in Greenwood Mississippi in March 1938, mother moved the family north to East St. Louis in the early 1940's. At the age of twelve Dee began singing gospel at the local Baptist church. The blues and R&B scene were frowned upon and by church elders but, Dee became hooked. By 16 he bought his first guitar and with his remarkable voice began employment with local vocal groups.
After a stint in the army, he returned home to a 1960's East St. Louis scene that was exploding with clubs and talent. As blues historian Bruce Olson notes: "The Cosmopolitan Club alone was supporting five or six full scale revues complete with Supreme-type female singers, full horn sections, and deep throated blues stars." Vocals and bass were Dee's entre to the scene.
He formed his own vocal group, David and the Temptations, and would be recruited to play bass for Howlin' Wolf and later Albert King. He eventually settled on guitar as his instrument of choice. Like King, Dee played left-handed and a flying V would become his trademark too. He too played with Jimmy Reed and performed and recorded with
Oliver Sain who, as a performer, producer, and studio owner (Archway)
, was the hub of St. Louis Soul and R&B with ties to Chess and Stax.
One day Sain provided Dee with a music track needing lyrics. It would become
Dee's biggest hit, 1982's "Goin Fishin."
David Dee and the Hot Tracks Band would become the last remaining R&B revue from the East St. Louis heyday. Dee released six albums between 1985-2001. Dee and the revue still play occasional events and he is a regular performer at National Blues Museum Thursday night jams. At 82 he can still hit his signature high note.
Arthur Williams
is an 'authentic' bluesman, an elite harp player with a background rich in the roots of the Delta, overlapping with his youth in Chicago. Arthur was born in Tunica, Ms. on July 8th, 1937, on the Coke and Stone plantation, where his dad drove a tractor on the plantation. As so often was the case, lean times and the prospects up North led to a family move to Argo, Il. in Nov. of 1939, when he was only two years of age, and then onto Chicago when he was twelve.
Arthur attended Dunbar High School in Chicago until his senior year, when he went back to Tunica to live with his grandparents. It was there that Arthur became lifelong friends with Frank Frost, and they played around the Tunica / Clarksdale area during the 1950's. Arthur later played harmonica on Frost's Harpin On It/Things You Do (Jewel Records).
The list of blues legends he played with grew long and impressive: Elmore James, Muddy Waters, Howlin' Wolf, Jimmy Reed, Hound Dog Taylor, and Eddie Taylor. On his album Midnight Blue (Rooster Blues) he's joined by pianist Bob Lohr, who also produced the album, bassist Charles "Nephew" Davis, guitarist Jesse Hoggard and the great Willie "Big Eyes" Smith on drums.
Williams later appeared in the John Sayles feature film, The Honeydripper (2007), as the character 'Metalmouth Sims,'. A harp player. Arthur's best memory of the experience was his jammin' with Keb Mo and Gary Clark Jr. at a crawfish boil, and the cast party that honored him.
The 83-year-old Williams has not actively played actively for several years but he is a regular visitor to BB's. If you happen to be there you may find him sittin in with whoever is playing. You can learn more about Arthur & sample some of his music here:
Juke Joint Journey
– and '
Midnight Blue.
Rudy Coleman, known as Silvercloud
, was born in Saint Louis County, MO in March of 1933 into a home filled with music. His mother had a big collection of 78's that included Sonny Boy Williamson, Tampa Red and Big Bill Broonzy and she and his uncles all sang and played guitar. Inspired by his mother and Broonzy the piano became his instrument.
In a 2000
St. Louis Blues Society
story written by his former bandmate, guitarist Ron Edwards, he talked about his greatest influence: "It was on Bill Broonzy's records that I first heard Memphis Slim. Many piano players worked with Big Bill but, none of them impressed me like Slim. That style of piano really caught my attention." As a teen it was piano lessons by day and sneaking into clubs at night to see Slim: "I would edge my way as close as possible to watch his hands." Slim noticed his "shadow' and began inviting him to sit in.
Silvercloud's 1st band was called Rudy Coleman and the Rhythm Rockers, and they began played around Edwardsville and Alton, Illinois. Some of his later band mates included Junior Walker, and he was especially proud of helping bring back horns to the Saint Louis blues scene.
He found himself at the
famed Club Imperial
, which launched St. Louis music careers like Chuck Berry and Ike in Tina Turner, but soon found that working night and day to play music when the clubs paid so little was a poor fit. Working for General Motors was enough to live on in 1962, so he completely quit music, and didn't come back to it in 1977.
One day, while laid off from GM, he was walking down Euclid street in the central West End thinking how cloudy his life was when an old saying came to mind, "in every cloud is a silver lining." It made him smile and think, "well hell, as cloudy as my life is, I must be Silvercloud.
Silvercloud went on to launch a career that spanned decades with many festival and high-profile events around Saint Louis. Coleman never recorded he just played and influenced generations of St. Louis blues musicians. In 2018 the National Blues Museum recognized him with their 'Keepin the Blues Alive Award.' He joined his old bandmate, Ron Edwards, onstage for one last performance.
For more than 100 years there has been a musical stew simmering on the banks of the Mississippi halfway between Memphis and Chicago. Big George Brock, David Dee, Arthur Williams, and Rudy Silvercloud Coleman are part of the spices, our treasures, that gave us the sound we know today as the St. Louis Blues.
Pictures:
Cbabi Bayoc
painting Big George Brock poster -Credit:
St Louis Blues Society web page
Big George Brock Poster by Cbabi Bayoc - Credit: from
St. Louis Blues Society web page
Photos of David Dee, Arthur Williams, Ron Edwards & Silvercloud - Credit: STLBlues