Written by Bob Baugh (originally published in Big City Rhythm & Blues magazine)
May 15, 2021
There is nothing that makes a blues club owner happier than a full house.
BB's Jazz Blues and Soups
sold out fundraisers in early May for David Dee and drummer Chuck "Popcorn" Louden made John May smile. After a yearlong covid winter, it was a sign of changing times. The easing of covid restrictions, warm weather, new venues, increasing gigs, and big events in the offing have the blues community excited.
One of the big events coming will be the opening of The St. Louis Sound exhibit at award winning
Missouri History Museum
in Forest Park on August 28, 2021. The sprawling show, which echoes many of the themes explored in the Jan. 2020 Meet Me in St. Louis issue of
Big City Rhythm and Blues
will run through January 2023. It covers all popular music history here from the dawn of recorded sound in the late 1800's all the way to the early 2000's. Andrew Wanko, the Public Historian and Curator of the exhibit, gets excited when talking about the St. Louis legacy:
"We are calling this
St. Louis Sound
but there isn't one sound. It's the sound of America. We are the last eastern city, gateway to the west, equal parts north and south, we have absorbed all the greatest parts of this country's sounds and put out even better things. No other city, apart from Los Angeles or New York, has had so many leading lights in different genres. Scott Joplin, Josephine Baker, Albert King, Ike and Tina Turner, Miles Davis, Clark Terry, Chuck Berry, Nelly and more. They weren't just popular; they were formative influences on the rest of the country's music."
Blues weaves its way throughout the exhibit by showing the rise of St. Louis as a piano town where ragtime and barrelhouse held sway in the early 20th century. A major section explores how and why the blues came here in 20's and 30's and the aspect of generational musicians. The more than 200 artifacts, mostly donated or loaned by local patrons, includes Henry Townsend's piano, Albert Kings flying V, and rare copies of Peetie Wheatstraw and Lonnie Johnson 78's. There will be a QR code at the entrance that allows visitors access by phone to 100 full track songs that correspond to each section.
All the musical themes will be incorporated into the museums popular summer Twilight Tuesday's summer series as well as additional musical programming being planned. Here's the best part, like our other world-renowned facilities in Forest Park, the Zoo and Art Museum, it's free. If you plan to visit STL make sure the St. Louis Sound, The National Blues Museum and the
Scott Joplin House
are on your "to do" list.
Coinciding with the Sound of St. Louis opening is a new music festival,
Music at the Intersection
(ticketed), scheduled for September 10-12, 2021. Delayed for a year, this event sponsored by the Kranzberg Arts Foundations and the Steward Family Foundation, couldn't be timelier. Kranzberg Executive Director, Chris Hansen, summed it up nicely in a recent Post-Dispatch interview: "This is a true celebration of St. Louis' rich and diverse musical heritage and a representation of our past and present. It's jazzy, it's soulful, it rocks, it loves hip- hop, and it loves the blues. It's everything we're know for – genres we birthed and genres that are the foundation of our St. Louis sounds."
The sixty acts (40 local) will appear in premier venues like the historic Fox Theater, The Sheldon Concert Hall and Grandel Theater, Dark Room, and Big Top. National acts were selected because of their St. Louis connections. Blues oriented headliners include
Bettye LaVette
,
Marquise Knox
,
Booker T Jones
, Lalah Hathaway,
Mike Zito
,
Roland Johnson
, and
Nikki Hill
.
While
St. Louis Sound
and
Music at the Intersection
celebrates our music so do our live music venues. The primary blues clubs were covid battered but remain standing.
BB's
,
Broadway Oyster Bar
,
Hammerstones
,
1860's
,
Highway 61 Roadhouse
,
Venice Café
,
Blues City Deli
,
Al's Lounge
,
Evangelines
, the
Old Rock House
and the
Blue Strawberry Showroom
are all open. One big loss was the closing of the multi-stage Atomic Cowboy in The Grove District, a favorite stop of
Mike Zito
and
Jeremiah Johnson
. That closure led to new venues as the Cowboy's booker, Drew Jameson, owner of
Jamo Presents
, sought new opportunities.
Jameson found a big empty lot adjacent to Bush Stadium,
BB's
and the
Broadway Oyster Bar
where he put up a stage, set pods for 248 fans, food and drink delivery to your pod and a lineup of great local and regional acts. Seven weeks, twenty-eight shows and nearly 5,000 tickets later, The Lot is a success. Jameson says they will do it again. Others have taken note. Allegro, another private event production company, entered the game with a west county outdoor stage site that includes food trucks and craft tables. One of our leading blues artists,
Lady J Huston and her hot trumpet
, was the opening act for the biweekly series that will run through the summer.
The outdoor stage spread to existing venues like the
Grandel
that featured jazz and blues. Their big outdoor tented stage with warm air and good circulation now has 40 weeks of programming in place for 2021. And, down the street, The Big Top, a small circus tent, was converted into an outdoor music stage. Both the
Grandel
and the
Big Top
are part of the
Kranzberg Arts Foundation
efforts in support of the Arts District. Another new venue, the
City Foundry
, features a big food hall, multiple restaurants, workspaces and music. The rehabbed mid-city foundry is presaging its full opening with lots of music events.
Little Dylan Triplet
,
Al Holliday and the East Side Rhythm Band
and the
Funky Butt Brass Band
have all been featured.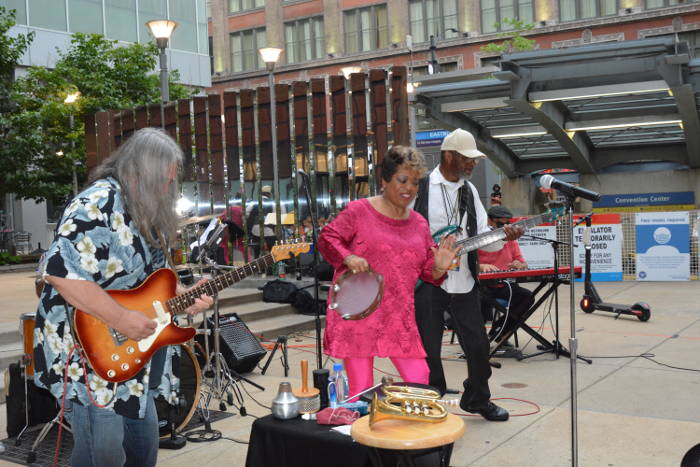 The National Blues Museum
reopened on a reduced hour basis, but its Legends stage remains closed. However, the music has moved outside for weekly concerts through the summer. Their Al Fresco summer series begins on the last weekend of May with Saturday afternoons concerts from 4-7.
Conversations continue with the Arch Foundation about the Friday night
Blues at the Arch
series in August. Also, the museum just opened two exhibits at the St. Louis Airport. One is a cigar box guitar history display featuring 28 instruments from top notch builders around the county. The other features the Green Book and explains how black musicians and travelers found road housing in a Jim Crow America.
The rest of the festival scene is slowly coming together.
Marquise Knox
is returned to the stage for the first time for the June 26
Black Wallstreet 314 Festival
in the Wellston Loop.
Skeet Rodgers and the New Inner City Blues Band
, and
Hy-C and the Fresh Start Band
were also featured. The
Roots N Blues Festival
(ticketed) in Columbia MO, has been pushed back to September 24-26, 2021 but it is a go with a powerhouse lineup of women that includes
Mavis Staples
,
Shemekia Copeland
,
Larkin Poe
,
Amanda Fish
,
Tanya Tucker
,
Brandi Carlisle
, and
Sheryl Crow
. Sadly, the
Big Muddy Blues Festival
remains in covid limbo with its usual site and supporters, Laclede's Landing, beset by construction and financial issues.
The reopening of the
National Blues Museum
coupled with the Sounds of St. Louis offers a great two for blues lovers visiting our town. And there's plenty of live music and good food waiting to be served around town. While nothing is truly back to normal on the music scene in St. Louis, it does feel like "these times they are a changing" in a good way.
*Publishers note - please check with music venues for any show changes or restrictions before you go, in these challenging Covid times.