Dylan Triplett's St. Louis Blues - By Bob Baugh, July 2022
(photo credits: Color - Bob Baugh, B/W Reed Radcliffe)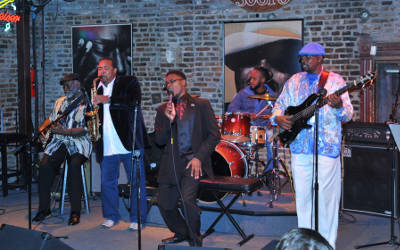 Carolyn Mason was doing a Sunday afternoon performance at the National Blues Museum in the spring of 2017 when she invited a skinny high school junior to sit in for a couple of songs. No one knew he was the stepson of her saxophonist, Art Pollard. Dylan Triplett sang three songs, displayed his four and half octave range and left the crowd shouting for more. It was his introduction to the blues scene. He had just served notice on the Legends stage that he would be a force to be reckoned with. A STL Blues Society Baby Blues Showcase at BB's Jazz Blues and Soups soon followed, then a band and in 2018 "Little Dylan" hit the stage at the Big Muddy Blues Fest.

None of this was by accident. This was a kid with a bucketful of talent that had been nurtured and fed by his schools, church, and his stepfather. Dylan was singing and humming tunes at home when he was five and his mother soon had him in the church choir. Pollard, a jazz musician, became part of the family when he was eight. That brought a new musical dimension to the household. "I played a lot of jazz around the house," he recalled, "and Dylan was always listening." He soon realized the kid had a gift: "I started him out by teaching him some Michael Jackson and realized he could mimic what he hears and memorize lyrics quickly. It's a gift and an advantage." It was the start of a decade long collaboration to create a bluesman.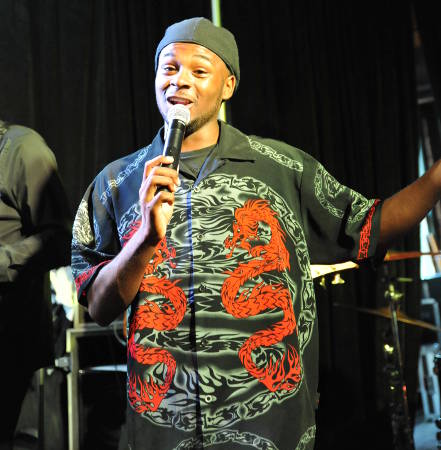 Triplett worked hard learning his craft through his school years. It helped eliminate stage fright while broadening is musical experience. He started with the clarinet in middle school, keyboards came later. High school included theater, chorus, classical music, opera, the prestigious high school competitions at the Fox Theater and even tap dancing. He grins when talking about the latter, "it's so I can do James Brown split without breaking my body." And he credits Pollard's influence: "Art pushed me to step out of my comfort zone. He always played the music around the house. He told me all about the songs, the musicians, how to know the music and how to perform on stage."

Triplett always impressed whatever the setting. Cherice Walker remembers Triplett from the Church of East St. Louis Choir: "Dylan sang in the tenor section, and I sang in the soprano section. It was 2017, when he was still in high school. I was not aware he was singing around until there were Sundays he wasn't there because he had sung the night before or had an event that day. The boy can sing. The boy has range out of this world. It was just wonderful singing with him. I'm excited and wish him well."

The plan was working. Pollard had saved the best for last: "I taught him blues the last because I knew if I taught him that first he may not do anything else. You need to have your hand in everything to figure out a style that works for you." At sixteen he took him to see Skeet Rodgers, a popular local Delta bluesman, to sit in and see a veteran performer and band leader at work: "Dylan performed a couple of songs, and the old guys realized this little kid was doing Johnny Taylor. I told Dylan to watch how Rodgers controls the music and the flow of the band. Skeet challenged him, so Dylan learned more songs. He caught on to the Chitlin Circuit routine."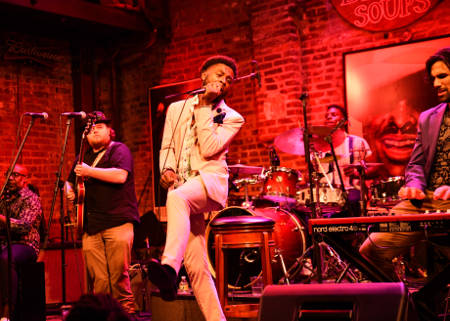 The die was cast. Soon he was meeting the crème de la crème of the STL Blues and R&B scene: Kim Massie, Roland Johnson, Gene Jackson, Marty Abdullah, who stunned him with his stage presence and vocal control, and finally Marquise Knox. A 2018 appearance at the Broadway Oyster Bar for the Monday night jam hosted by the Soulard Blues Band was, in Pollards words, "like someone set off a hand grenade on stage." Veteran guitarist John McVey was blown away by his performance. He would later call an old Texas compadre, the Grammy and WC Handy award-winning bassist and producer Larry Fulcher. In turn he called Pollard and Triplett about a collaboration. Initial recordings began in STL late in 2019 at Paul Niehaus's Blue Lotus Studios and in California. And then covid hit.

Triplett's high hopes crashed and burned. It was a troubled time for the young artist: "Everything stagnated during covid. I had no way to get gigs, and everyone kept getting sick. I got played out of my apartment and ended up living in my car for three months. Depression set in. In retrospect, he now says there was a benefit: "It's becoming less like me just singing the songs. It's me now understanding the things I'm singing about. The last few years made me grow."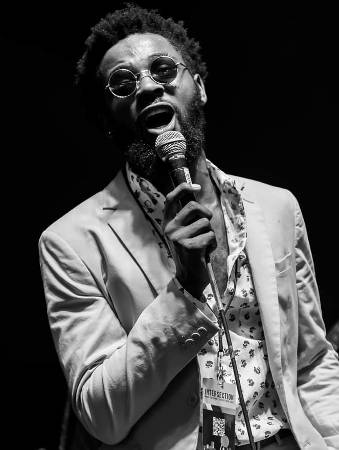 The one bright spot was the late 2020 black bluesman Mississippi retreat at the Foxfire Ranch organized by Jontavious Willis and Marquise Knox. Triplett, Jayy Hopp, Stephen Hull, Sean McDonald, D. K. Harrel rounded out the roster. It was a week of fellowship, friendship and jamming with plenty of music, talk, politics, history, and bond building. It was Triplett's initiation into a very special brotherhood of some of the best young black bluesmen in the country. It came when he needed it most:
"It was a huge awakening. It helped me find my voice, my growl, parts of me that I didn't know I had and that I needed to find spiritually, since I believe in something greater than myself. It was very emotional looking at everybody and seeing somebody that looks like you. It was so powerful, empowering. As a black man it made me felt so safe. It gave me the extra boost to get thru covid. After the retreat I decided to move ahead with everything."

Triplett had found himself. In 2021 headed back to the studio to finish what he had started two years before. He had a few friends like Christone 'Kingfish' Ingram, Sean McDonald, Montez Colem
a

n
(drummer and mentor), Larry Fulcher (bass) and Ryan Marquez (piano) and others lending a hand. Vizztone Records at Fulcher's urging signed him.


Who is he? was released in July to a wave of publicity and complimentary reviews. The album includes songs co-written by Triplett and Fulcher as well as several interesting covers including Miles Davis's 'All Blues'. Triplett says he likes them all equally but notes that "crowds seem to like 'Junkyard Dogs' and 'Barnyard Blues'. They're shuffles that get them up and moving. Every one of the songs has a chugging feel, like the way water has its own rhythm to it."


Music journalist Bob Baugh

The prerelease publicity was already beginning to build when he was featured at the Memphis Showcase during the May Blues Music Awards. His scheduled appearance on the October Legendary Blues Cruise also went public. His buddy Knox
will be there too. Then there was an August international tour to three Brazilian state at the invitation of the Simi Brothers, a very popular blues band from Sao Paulo. "That's one reason why Mississippi was so important," Triplett said, "They saw it, contacted me, and said they wanted to do something together. They called back for a tour this summer. They can play killer blues. I was astonished by their attention to detail." And a European trip is in the winds as is a second album.

This album is climbing the charts and the good reviews keep rolling in. People like the mix of down and dirty blues, R&B and Jazz. It's the kind of style that has appeal for different audiences. Our town is excited for Dylan. The release party at BB's Jazz Blues and Soups was filled with family, friends and fans all celebrating the arrival of the man we knew as a kid. We know who he is. He was made in St. Louis.


This article was first published in Aug/Sept 2022 Big City Rhythm and Blues. bob.baugh@verizon.net