The Albert King Alumni tribute show - at the MO History Museum
June 2nd , 2022
---
From Lady J Huston: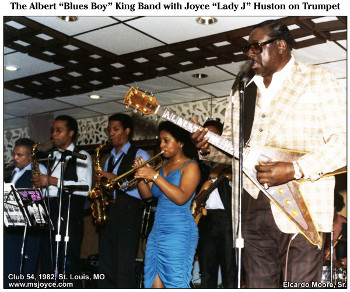 Come join us in St. Louis, MO at the Missouri History Museum on June 2nd 2022,
as we embark on a one of a kind tribute show to our Guitar hero, Mr. Albert King!

I've assembled a group of musicians who toured and performed with the King for a great show and sharing of stories about our experiences.


Band Line-Up - All from St. Louis, MO unless otherwise noted:

- Lady J Huston (Trumpet, Vocals)
- Frank Dunbar (Bass, Vocals, Harmonica)
- Gus Thornton (Bass)
- Curt Landes (Keyboard, Vocals)
- Vince Martin (Lead Guitar, Vocals)
- John Smith (Rhythm Guitar)
- Keith Robinson (Drums)

-
Edward Joseph Earley - San Francisco (Trombone, Vocals
)

-
Frank Bauer
(Tenor Sax)
- Lew Winer III (
Baritone
Sax)

Emcee: Thomas Papa-
R
ay (KDHX)


Special guests include Albert King children & grandchildren, with more albert King alumni musicians participating in the panel discussion.

-
Alice Johnson (Granddaughter of Albert King & other family members)
- More Albert King Alumni musicians participating in the Panel Discussion

We hope you can make it!