NORTH OF THE QUARTER :: MEMBERS
Mae Soule - Vocals and Percussion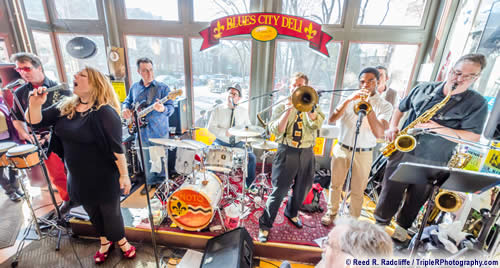 John Covelli - Trombone
Mark Casey - Saxophone
Khamali Moore - Trumpet
Kevin Schofield - Guitar and Background Vocals
Bob Buckman - Keys and Background Vocals
John Short - Bass and Background Vocals
Toby Mechem - Drums and Background Vocals
The Meters, Bonerama, Etta James, Trombone Shorty, James Brown, Kermit Ruffins, Black Joe Lewis and the Honeybears, Dr. John, Ike & Tina Turner, The Band, Sharon Jones and the Dap Kings, Aretha Franklin Bio Soul Funkin' Good music from New Orleans, north along the Big Muddy, up through Jackson, with a little Memphis blues, classic St. Louis soul, Chicago boogie, and rockin' rhythm and roll from Detroit and beyond.
The rhythm section of this band has been playing together since 2005, and you can tell. We added Mae Soule in 2011 and that was the missing ingredient. We had goose bumps at her audition. Throw in the horn section, led by John Covelli and all the experience he brings, and you've got a band not to be missed. Mixing familiar and not-so-familiar covers with solid original music, North of the Quarter will make sure your crowd has a night to remember.
"This is a darn good band!"
-- Mark, "Sunnyboy" Mason, host of Howzit Bayou on KDHX
"Love you guys!"
-- Joe Schwab, owner, Euclid Records
Negotiable
Negotiable
--
back to top
--

NEW BANDS CLICK HERE
From clubs to corporate events to festivals, STLBlues can help make your event a memorable one!